Twitter is a global platform with more than 60% of users outside the United States and one way B2B companies can grow their business is to monitor and engage with customers and prospects in other languages. In some instances that means reading and writing tweets in languages that you do not understand. There are a variety of tools that embed translation into their interface, and here are some of the most popular.
Tweetdeck
Lots of people use this desktop client to manage their Twitter experience, but many don't know about the built in language support in Tweetdeck. Start by going to Settings > Services and choose your primary language. Tweets in other languages will be translated into this language when you choose to translate them. Note that all translation is powered by Google and these machine translations frequently miss the subtleties of language, especially in social media.

When you see a tweet that is not in your primary language, move your cursor over the profile picture to bring up the menu of other actions you can take on an individual tweet. Choose translate. You can also choose untranslate to switch the tweet back to its original language.


Tweetdeck also helps you translate your tweets into any Google Translate supported language. After writing your tweet, click the translate this update button and choose the language you wish. Click send to post your translated tweet.

Hootsuite iPhone app
If you are looking for quick way to translate incoming tweets to your native language while on the go, the HootSuite iPhone app includes one button translation while reading any tweet. There are actually two buttons. One translates to the primary language that you set for the app, while the other translates to English.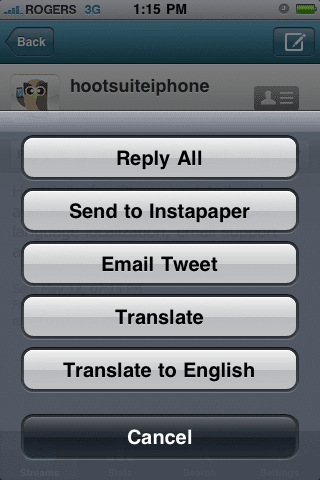 Twaitter
Another tool that has built in translation is Twaitter. This web-based tool is designed around scheduling your Twitter updates, but it also has Google Translate services embedded into it. After typing an update, click translate, choose a language and Twaitter translates. Send or schedule the update.

Tweetmeme
And finally, yesterday, Tweetmeme announced translation support for their popular retweet button (used here on SocialMediaB2B.com). They too have incorporated Google Translate tools, which can automatically detect, and suggest, translation into your native language. It is easy to undo if you don't like the translation. If you tweet in a language other than English, we would love for you to tweet this post in your language using the Tweetmeme button and let us know how it works.

Are there other translation tools that allow you to connect your B2B company to people who do not speak your language? Let us know below in the comments.