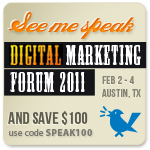 Next week I will be traveling to Austin, Texas to speak at the Digital Marketing Forum. My New To You session at this MarketingProfs event is Social Media Best Practices to Heat Up Your Marketing, where I will be presenting with Alan Belniak (@abelniak) and Sharon Mostyn (@SharonMostyn). If you are attending this conference, it would be great if you attend our session, or at least stop by and say hi.
If you are thinking about attending, make sure you check out the list of awesome speakers. We have interviewed several of them over the years, and the links to the videos are listed below.
If you see someone on the conference speaker list that you would like us to interview, let us know in the comments below. We will do our best to try to arrange it. I will definitely be talking to Ann Handley about Twitter and her new book, Content Rules.
And finally, if you are going to be there, and you would like to write a blog post or two about the B2B content and examples from the conference, please let me know (contact@socialmediaB2B.com), and tell me what session you would like to blog. This has worked great in the past, and since I can't attend every session, this is a great way to share more content from the event. Hope to see you in Austin.